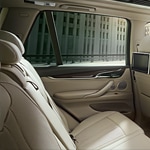 The 2020 BMW X5 is a class act as it's one of the world's most sought-after vehicles. This SAV is basically the combination of an SUV and a sedan. Cutting-edge technologies are available, exceptional comfort can be experienced, and the high-powered engines will deliver at all times.
The BMW X5 offers turbocharged engines that will deliver on-demand power. Horsepower will range between 335 to 523 ponies. Pound-feet of torque will range between 330 to 553, but all of this power and torque is contingent upon your trim choice. The new X5 has outstanding good-looks thanks to its near-perfect dimensions and exotic features. The brand's kidney shaped grille is present on the front, and large LEDs are present on the rear. Other included features are Wi-Fi, premium audio, a rotary mounted knob, Apple CarPlay and Android Auto.
If you'd like to test drive this beast, then stop by our showroom today.