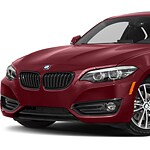 The BMW 2 Series is a popular compact sports car that can be had as a coupe, a convertible, or as a Gran Coupe. No matter how you choose to get your BMW 2 Series, you can be confident in knowing that it will be a fast and capable vehicle to use around Honolulu.
The two-door coupe has the most options when it comes to performance, as you can get it with the standard engine options, or you can upgrade it to the M2 with over 400 hp. The 2 Series convertible is a great choice if you are looking for a fun sports car to cruise around with the top down in. The Gran Coupe is the newest addition to the 2 Series lineup, and it comes with four doors, which is great if you plan on driving people around frequently.
Our team at BMW of Honolulu can provide you with a more detailed breakdown of the BMW 2 Series if you stop by our showroom. Our team can even set up a test drive for you if you are interested in seeing how dynamic the 2 Series is.